Baby & Toddler Swimming Lesson
Highly Qualified Instructors Indoor Heated Swimming Pools
Find out what we do to keep you safe
Effective Learn To Swim Programme For 4 Months To 4 Years Old
Every baby & toddler has the potential to become a
Water Baby.
The sooner a child discovers the freedom of buoyancy and underwater swimming, the more relaxed and independent he or she will become.
Swimming lessons at an early age helps in their physical, social and emotional development. It also helps them to prepare for proper swimming and leads them to a healthy lifestyle! In addition, research shows early swimming also helps a young child in a growing sense of self-esteem, confidence and independence.
Our aquatic specialists are committed to ensuring a comfortable learning experience for you and your child. We have specially designed our syllabus in a step by step manner to cater to young children's ability. Join us now for the fun journey, witness every stage of your child's growth!
What Are Babies Going To Learn? 

Stage 1: Water Familiarisation
Children will learn how to explore in and around the water safely.

Stage 2: Breath Control
Children will learn how to hold their breath when verbal and kinesthetic trigger is given.

Stage 3: Trauma-Free Submersion
Children will develop confidence in submerging underwater and discover the freedom of buoyancy.

Stage 4: Free Floating
Children will learn how to float without assistance to the ledge of pools or between adults.

Stage 5: Propulsion
Children will learn basic hand paddling and leg kicking action to move around in the water.

Stage 6: Independency
Children will learn how to swim between adults, grabbing shirts to pull themselves up, turn and swim back to the ledge and get out of the pool, all by themselves.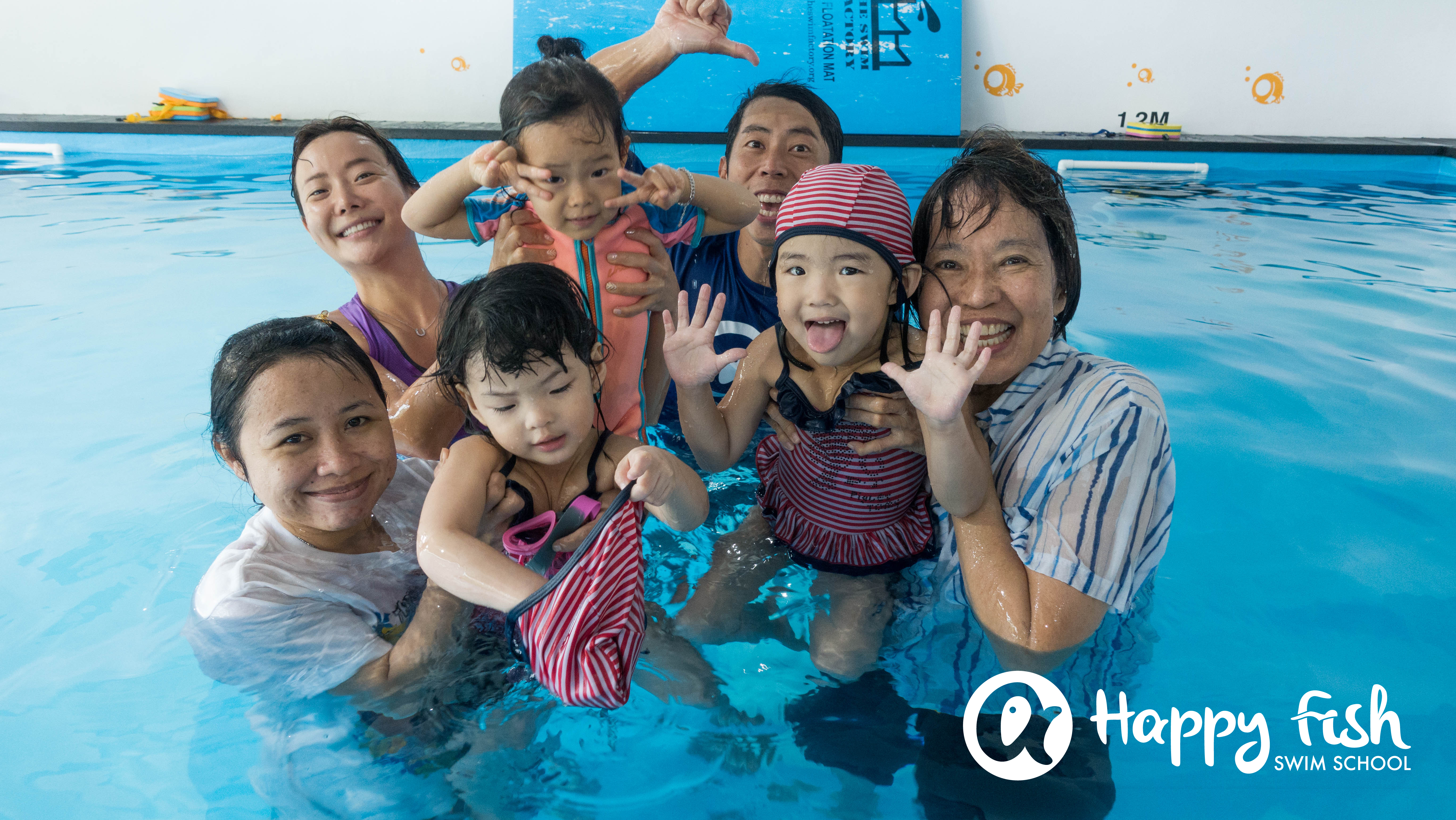 Our Baby & Toddler Swimming Program
With years of teaching experience since 2007, Happy Fish has developed a highly effective teaching system that has successfully taught thousands of children how to swim with confidence. Following an engaging and fun curriculum, one can expect a pleasant learning experience which produces tangible results.
Classes at Happy Fish are running perpetually with no fixed term, in order to develop a good consistent routine in our students. This also enables them to be able to minimise disruption, while promoting progression. Every stage is expected to last about 1 to 2 terms (10-20 lessons), with some of the key milestones being:
Beginner Stage: Submerge & float comfortably 
Intermediate Stage: Swim a short distance
Advance Stage: Swim independently for long distance 
Your Instructors
Being AUSTSWIM Gold Level Recognised Swim Centre, Happy Fish instructors are certified AUSTSWIM Teacher of Infant & Preschool Aquatics.
We love to give you and your baby the best swimming experience since birth! We bring your baby back to the water world just like when they were inside mummy's tummy. Our job is to train you, parents, to be the best swimming teacher of your little champion. Come and join us to start your babies' wonderful swimming journey today!
Indoor Heated Swimming Pool
Our Indoor Heated Pools are running on a high-quality salt chlorinator combined with a UV system. UV is the non-chemical technology used by New York City to purify drinking water. The results are equally impressive in swimming pools. You'll enjoy a pool that is safe and healthy. UV does the heavy lifting which lowers chlorine demand up to 90%. Bacteria and other disinfection by-products are safely eliminated.
We maintain pool temperature at 30-32 Celsius during lesson time, so be assured to enjoy warm crystal clear water. Say goodbye to shivers, stinging eyes, dry hair, and skin!
Happy Fish @ KSL Esplanade Mall Klang
(Coming Soon in 2022)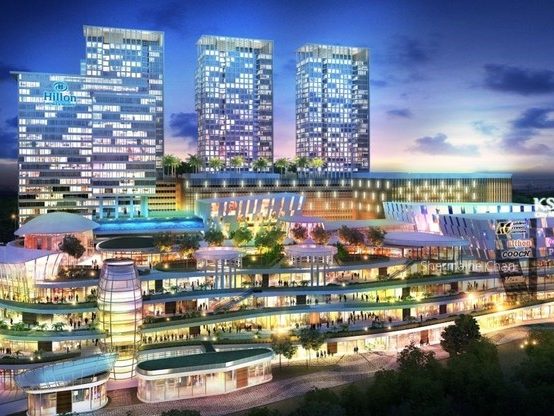 Happy Fish @ Forum Mall Setia Alam
(Coming Soon In 2023)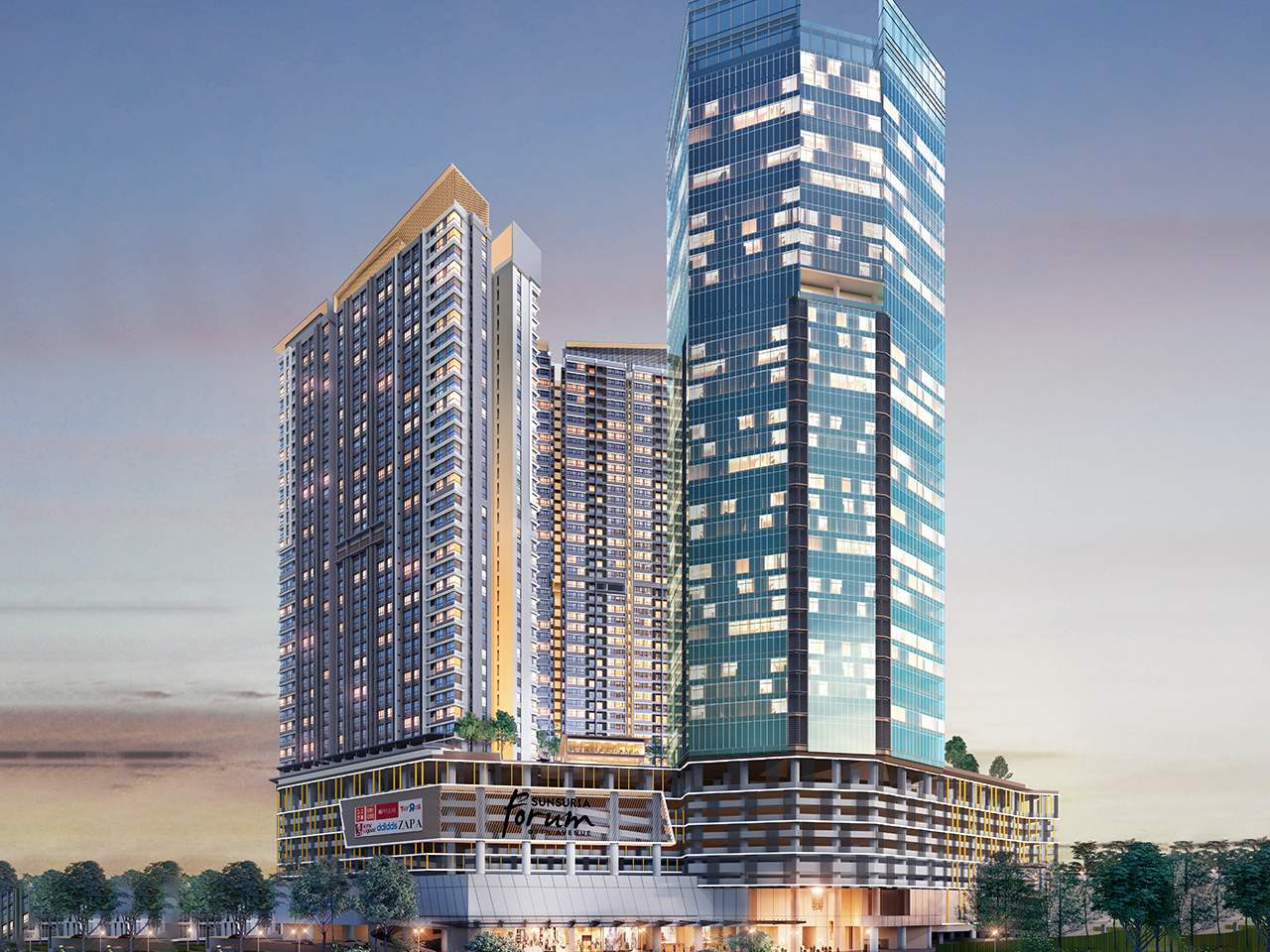 Location
Happy Fish @ Kota Damansara
Happy Fish @ Sunway Subang
Happy Fish @ SS23 Taman Sea
Happy Fish @ Sunway Iskandar JB
Happy Fish Signature @ Mont Kiara
Happy Fish @ Klang (coming soon)
Age Category
Babies: 4 to 23 months old
Toddlers: 2 to 4 years old 
Kids: 5 to 12 years old
Duration
Babies & Toddlers: 30 minutes per lesson
Kids Beginner: 45 minutes per lesson
Kids Advance: 60 minutes per lesson
Group Lesson
| | | | |
| --- | --- | --- | --- |
|   | Baby/Toddler (Weekday) | Baby/Toddler (Weekend) | Kid (Weekday/Weekend) |
| Happy Fish Signature | RM700 per term | RM900 per term | RM900 per term |
| Happy Fish | RM560 per term | RM660 per term | RM660 per term |
Private Lesson
| | | | |
| --- | --- | --- | --- |
| | Individual | 2 in a group | 3 in a group |
| Happy Fish Signature | RM650/4 sessions | RM800/4 sessions | RM950/4 sessions |
| Happy Fish | RM500/4 session | RM600/4 sessions | RM700/4 sessions |
Terms & Conditions
Lessons are scheduled for 10 consecutive weeks, excluding gazetted public holidays.
Each term includes 4 make-up credits. Make-up credits must be fully utilized within the same term. The make-up lesson cannot be rescheduled unless with 2-hour advance notice and activation of another make-up credit.
A maximum of 4 make-up credits is allowed each term (only applicable for infants, toddlers, kids' classes). Parents must inform the school 2 hours before the lesson. A valid Medical Certificate of the student's name must be submitted within a week of the absence backdating of the lesson.
Strictly no rescheduling of the make-up lesson is allowed. If you have confirmed a make-up slot, the make-up credit is considered utilized. To reschedule a make-up lesson, another make-up credit must be activated 2 hours before the lesson.
Students with perfect attendance (or not utilizing the make-up credits) are eligible to redeem either an underwater photoshoot or a 1-minute milestone video.
Parent involvement is required for all infant's and toddler's classes. In view of Covid-19, the School will only allow one parent to participate.
Accompanying adults must wear appropriate tight-fitting swim attire. Strictly no form of boardshorts, long pants, and non-Happy Fish t-shirts is allowed.
Children below 5 years old are required to wear approved snugly fitting swim diapers (iPlay™ and SnuglyFit™). Strictly no other brands of swim diapers are allowed.
Students will be grouped according to age in their first term and may subsequently be regrouped according to their stages (timing may change).
There will be no lesson if the lesson falls on a gazetted public holiday. Lessons will be postponed and no further action is required by the customer.
Lessons will be as per normal for public holidays in lieu unless otherwise announced.
Happy Fish reserves the right to send a relief instructor if the class coach is unable to conduct the lesson on that day.
The School reserves the right to cancel or postpone the lesson in an unforeseen situation or when a relief coach is unavailable.
The School reserves the right to reschedule the commencement date of classes if the class size does not meet the minimum requirement.
In the event when the class size falls short upon the next term, the School reserves the right to reshuffle the students and close the class.
Other general Terms and Conditions apply
What is the minimum age for infants to take part?
Our programme is suitable for babies from 4 months old onwards. Any babies younger than 4 months old is welcome to register for their slots first.
How long is it going to take for my baby to learn to swim?
Every child is unique and therefore it is very difficult to say how long they will take to learn. There may be some that start out slow, but later progress really quickly at the later stages. As a simple guideline, we expect them to start picking up about 4-6 months after they become comfortable with the water.
Do I need to be in the water with my child?
Yes, parents are required to join their babies for swimming lessons. After all, you are your baby's best teacher! Our instructor will guide you on how to teach your babies to swim. This allows the baby and parents to have fun together. Your babies will also have a sense of security.
What do I need to bring for the lessons?
Bring along your baby's wetsuit, swim diapers and baby's favourite waterproof toys.
I couldn't find my answer.
Please email your enquiries to
[email protected]
, we will be in touch with you soon. Alternatively, you can also send a Whatsapp or call us at 012-7792771. We are available every day, 9am-6pm.
Can I group my 12 months old baby with 3 years old toddler together?
As they are in different categories, we recommend to conduct the class separately. We will be using different syllabus for Infant and Toddler Swim Lessons.
What is the age range for toddler?
Children aged between 2 to 4 years old would be considered under the Young Toddlers' category.
What is the duration of each lesson?
Each session last 30 minutes. Don't forget to prepare your little one's favourite fluffy towel to keep them warm after the session.
How many students are there in a class?
Each class is limited to 6 babies only.
Can Babies Swim?!This cute video is for parents or future parents!

Not everyday do you see babies learning how to swim and interacting with water for the first time ever!

Baby swimming seems like a new field and I couldn't be happier to cover it with Jack and Jacklyn from Happy Fish Swim School in Singapore!

They have been watching Nas Daily for hundreds of days, so I'm glad we finally got to connect and make a video about their work! Thank you and keep up the good work!

INSTAGRAM: @nasdaily
GROUP: Nas Daily Global

P.S It goes without saying: this video is not sponsored! It's only sponsored by love and appreciation! 🙂

Posted by Nas Daily on Monday, August 27, 2018
Baby & Toddler Swimming Lessons
Address
HAPPY FISH SWIM SCHOOL SDN BHD (1205508-T)
No. 27-1, Jalan PJU 5/15,
Dataran Sunway, Kota Damansara,
47810 Petaling Jaya, Selangor.
Operating Hours (Customer Service)
Daily 10.00am – 6.00pm
Closed on Public Holidays
Operating Hours (Swimming Lessons)
Daily 9.00am – 9.00pm
Closed on Public Holidays